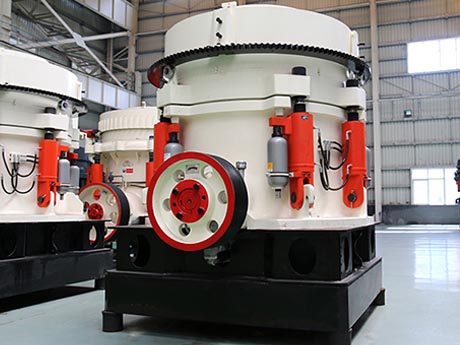 Multi-cylinder Hydraulic Cone Crusher
Production capacity: 12–1000 t/h
Diameter of crushing cone: 950–1500 mm
Inlet size: 70–335 mm
Outlet size: 8–50 mm
Weight: 17000–38800 kg
Motor power: 160–400 kw
Material handling: limestone, granite, cobble, dolomite, iron ore, basalt, etc
Advantages
PYG series cone crusher is a new cone crusher researched and development in our company by combing the single-cylinder hydraulic cone crusher and PYG cone crusher and adopting advanced designing concept. Due to the adoption of good crushing frequency and eccentric distance, the content of fine particle materials in the crushed materials is higher, and the content of the materials smaller than the discharging mouth can reach 80%, thus significantly improving the processing ability of the following equipment and reducing the comprehensive energy consumption.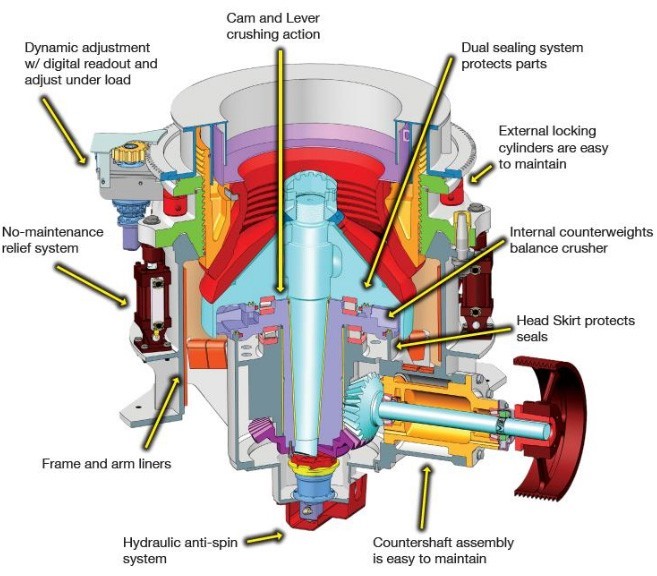 Overview
1. The perfect combination of high performance crushing chamber and high crushing frequency of PYG series cone crusher greatly improves the processing ability of this machine, and due to the adoption of lamination crushing principle, the crushed products are in the shape of cube, thus greatly reducing needle-shaped materials.
2. It adopts hydraulic operation, so that the use is convenient and easy to realize automation and its reliability and service life is greatly improved.
3. It is simple in structure, convenient and fast in operation, maintenance and adjustment of the discharging mouth. The examination and repair saves both time and labor, and especially that the lining board is easy to change, thus reducing the stoppage time.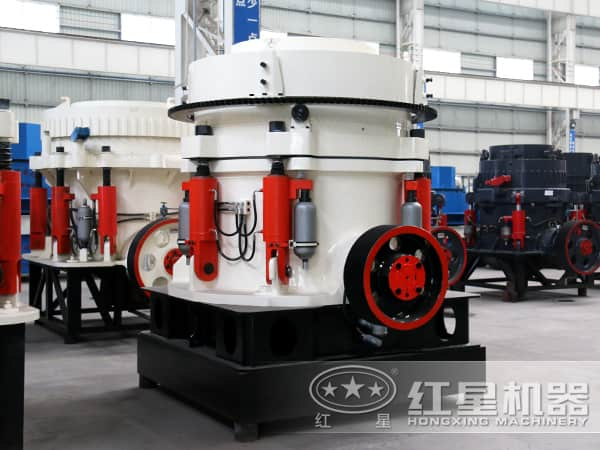 Technical data
Model
Cavity
Diameter
of large
end of
crushing
cone
(mm)
Width of
Feeding
Opening(mm)
Max.
feeding
size
(mm)
Adjusting
Range of
Discharge
Opening
(mm)
Processing
capacity(t/h)
Main motor
power(kw)
Weight of
Main
Machine
(t)
HXHP200
C1
900
210
178
22~38
160~250
4P 160
10.1
C2
155
132
18~38
145~250
C3
130
110
14~38
120~250
F1
118
100
12~25
108~210
F2
90
76
10~25
81~210
F3
70
60
8~25
72~210
HXHP300
C1
1100
235
200
26~45
230~445
4P 220
17.8
C2
211
180
20~45
200~445
C3
135
115
16~45
180~445
F1
124
105
14~25
160~220
F2
96
82
12~25
140~220
F3
70
60
8~25
120~220
HXHP400
C1
1400
330
280
26~51
270~630
4P 315
25
C2
200
170
22~51
243~630
C3
152
130
16~51
210~630
F1
135
115
12~25
162~370
F2
106
90
10~25
126~370
F3
80
68
8~25
104~370
HXHP500
C1
1500
335
285
32~51
365~790
4P 400
34.1
C2
229
190
25~51
328~790
C3
180
152
19~51
280~790
F1
152
130
13~25
202~450
F2
124
105
10~25
158~450
F3
88
75
8~25
122~450
HXHP800
C1
2000
385
326
32~51
616~1100
4P 630
69.2
C2
350
298
25~51
522~1100
C3
280
238
16~51
380~1100
F1
160
136
13~25
328~730
F2
120
102
10~25
270~730
F3
90
77
8~25
166~730
Related Products
Classic Case
Pakistan Sand Production Line

Production capacity: 200 t/h
Processing material: river pebbles, quartz
Benefits: top notch technique support, all-round services

Read more
South Africa Stone Crushing Plant

Production capacity: 250 t/h
Processing material: marble
Benefits: complete technique support, all-round services

Read more