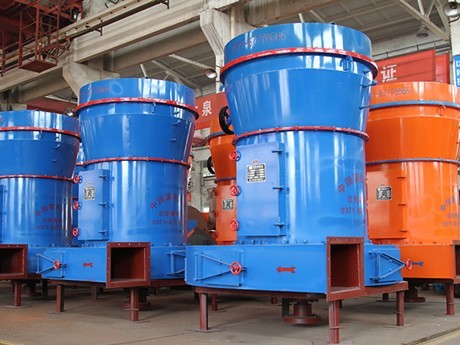 Grinding Machine
Production capacity: 4–55 t
Feeding size: ≤25 mm
Product granularity: 0.125–0.033 mm
Rotate speed of central shaft: 130–180 r/min
Material handling: barite, limestone, ceramic, slag, etc
Overview
Grinding Machine is suitable for grinding non-flammable and non-explosive materials whose Moh's hardness is below 9.3 and humidity less than 6% such as barite, limestone, ceramics and slag in mine, metallurgy, chemistry and building material industry and the granularity of the final products can be adjusted between 80 and 425 meshes. The machine can produce coarse powders of 30-80 mesh through the special device inside the machine.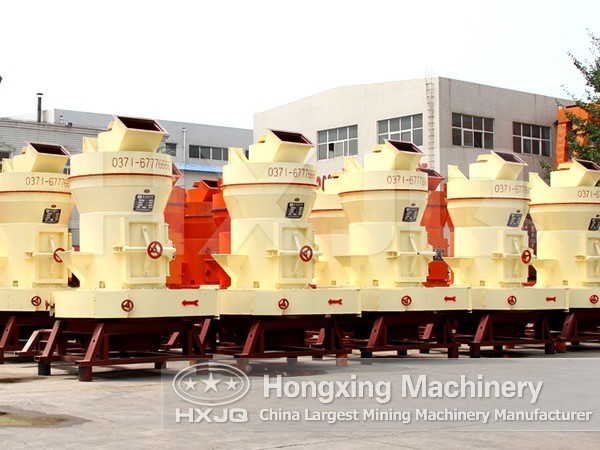 Advantages
1. This Grinding Machine has stereochemical structure, small coverage size and a production system can be independently formed from massive materials to final powders.
2. The fineness of the final powders is even and the through-screen rate is 99%.
3. The transmission device adopts sealed gear case and belt wheel with stable transmission and reliable operation.
4. The main parts use fine steel materials and the wear-resistant parts use high performance wear-resistant materials, so that the whole machine has high wear-resisting property and reliable operation.
5. The electrical system is centrally controlled and the maintenance is convenient.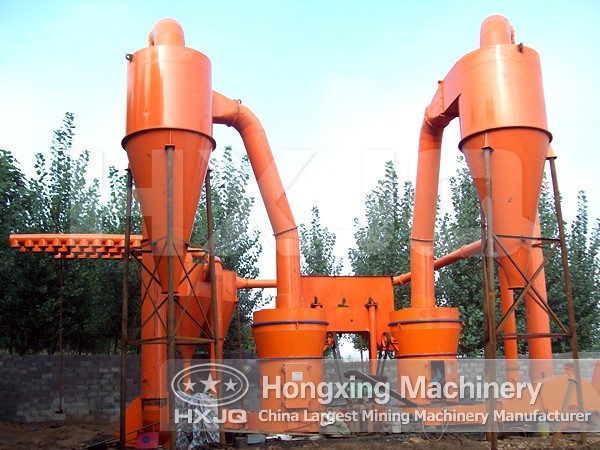 Technical data
Parameter
Model
High-strength97
High-strength93
High-strength92
High-strength87
High-strength76
High-strength66
High-strength62
Feeding
size(mm)
≤25
≤25
≤25
≤25
≤20
≤15
≤15
Size of finished
product(mm)
0.033-0.173
0.033-0.173
0.033-0.173
0.033-0.173
0.033-0.173
0.033-0.173
0.033-0.173
Shift output of
different material
fineness(t)
4-52
3.5-40
3-36
2.8-33
1.5-25
1-20
0.6-9
Rotate speed
of central
shart(r/min)
130
140
148
161
170
190
274
Diameter of
pulverizing
ring(mm)
1050
1006
973
907.5
850
725
525
Diameter of
pulverizing
ring(mm)
310
300
300
270
250
210
150
Height of
pulverizing
roller(mm)
170
160
160
150
150
150
100
Main Motor
Y225S-4-37
Y250M-8-30
Y250M-8-30
Y225M-8-22
Y225S-8-18.5
Y200L-8-15
Y160M-6-7.5
Fan Motor
Y225S-4-37
Y180M-2-22
Y180M-4-22
Y180M-4-18.5
Y160L-4-15
Y160M-4-11
Y132S-4-5.5
Analyzer Motor
YCT200-4A-5.5
Y132S-6-3
Y112M-6-2.2
Y112M-6-2.2
Y112M-6-2.2
Y112M-6-2.2
Y90L-6-1.1
Classic Case
Arab Powder Grinding Production Line

Production capacity: 18 t/h
Processing material: calcite
Benefits: excellent services, consummate technique support

Read more
Superfine Slag Powder Production Line

Production capacity: 100,000 t/y
Processing material: blast furnace slag
Benefits: excellent service, exquisite technique support

Read more