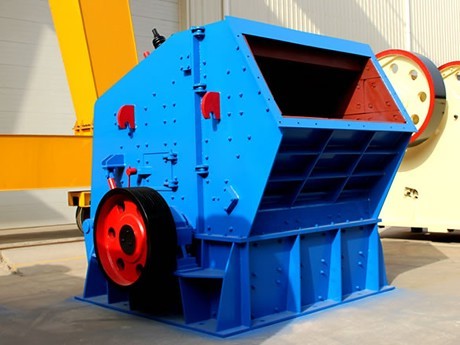 Impact Crusher
Production capacity: 30–550 t/h
Inlet size: 400×730–830×2040 mm
Feeding side length: 300–700 mm
Power: 45–400 kw
Total weight: 12–12 t
Material handling: limestone, coal gangue, granite, bluestone, etc
Advantages
1. It has big feeding mouth, high crushing chamber, high adaptability of the material hardness and small amount of stone powders
2. The gap between the impacting plate and the plate hammer is convenient to adjust so that it can effectively control the discharging granularity and the particle shape is good.
3. It has compact structure and strong rigidness, and the rotor has big rotational inertia.
Impact crusher is a kind of crushing machine that uses impacting energy to crush materials. When the machine works, driven by the electro motor, the rotor will rotate with high speed, and when the materials go into the action zone of the plate hammer, they will strike and are crushed on the plate of the rotor, and then are crushed again when they are thrown to the impacting device, and then the materials will bounce back from the impact lining board and go to the action zone of the plate hammer and are crushed again.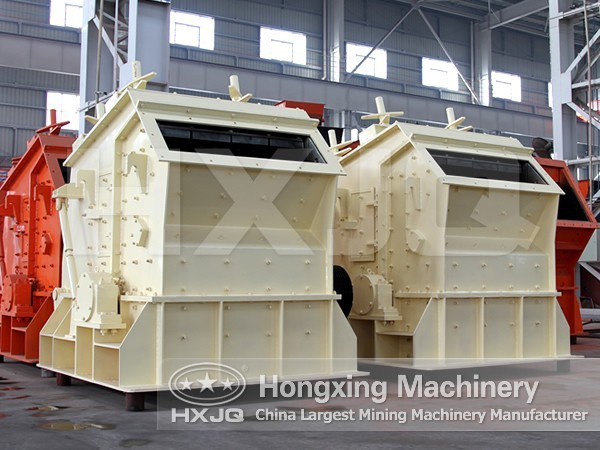 Technical data
Model
Specification
(mm)
Feed
opening
(mm)
The Maximum
Feeding Size
(mm)
Capacity
(t/h)
Power
(kw)
Total
weight
(t)
Overall
dimension
(L×W×H)
(mm)
PF-1007
Φ1000×700
400×730
300
30-70
4P 37-45
12
2330×1660×2300
PF-1010
Φ1000×1050
400×1080
350
50-90
4P 45-66
15
2370×1700×2390
PF-1210
Φ1250×1050
400×1080
350
70-130
6P 110
17.7
2680×2160×2800
PF-1214
Φ1250×1400
400×1430
350
100-180
6P 132
22.4
2650×2460×2800
PF-1315
Φ1320×1500
860×1520
500
130-250
6P 200
27
3180×2720×2620
PF-1320
Φ1300×2000
993×2000
500
165-320
6P 250
34
3220×3100×2620
PF-1520
Φ1500×2000
830×2040
700
300-550
4P 315-400
50.6
3959×3564×3330
PF-1820
Φ1800×2000
1260×2040
800
600-800
6P 630-710
83.21
4400×3866×4009
Related Products
Classic Case
Pakistan Sand Production Line

Production capacity: 200 t/h
Processing material: river pebbles, quartz
Benefits: top notch technique support, all-round services

Read more
South Africa Stone Crushing Plant

Production capacity: 250 t/h
Processing material: marble
Benefits: complete technique support, all-round services

Read more