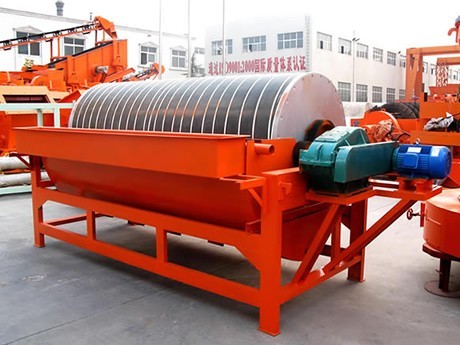 Magnetic Separator
Processing ability: 1–220 t/h
Feeding size: 3–0 mm
Shell diameter: 600–1500 mm
Shell length: 1200–3000 mm
Shell rotation speed: <35 r/min
Power: 1.5–11 kw
Material handling: magnetite, pyrrhotite, calcined ore, ilmenite, etc
Overview
Magnetic separator is suitable for the wet magnetic separation of the materials whose granularity is below 3mm such as magnetite, pyrrhotite, calcined ore and ilmenite and can also be used for removing iron from the materials such as coal, non-metal ore and building material.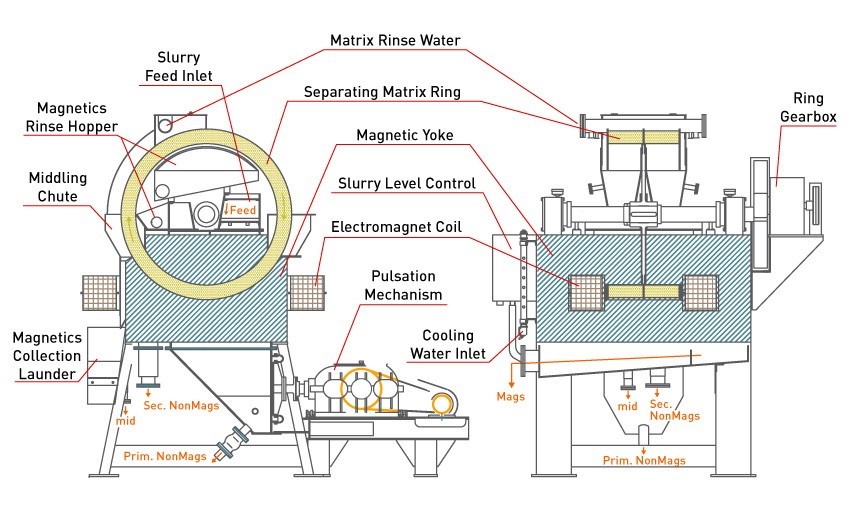 The magnetic system of magnetic separator is a compound of fine ferrite material and rare earth magnets and the average magnetic induction intensity of the surface of the cylinder is 100~600mT. According to specific need, customers can choose from many kinds of magnetic separators with different surface magnetic intensity such as downstream type, semi-reflux type and reflux-type. This product has the advantages of simple structure, big processing capacity, convenient operation and easy maintenance.
Advantages
1. The coarse separation of the lean iron ore after coarse crushing or medium crushing eliminates the barren rocks such as surrounding rock, improves the taste of the iron ore and eases the load of the next procedure.
2. Magnetic separator can be used in the closed circuit firing work for restoring the hematite, and it can separate the rawore that are not fully restored and return it for firing again.
3. In the ceramic industry, magnetic separator can remove the iron mixed in the petuntse and improve the quality of the ceramic product.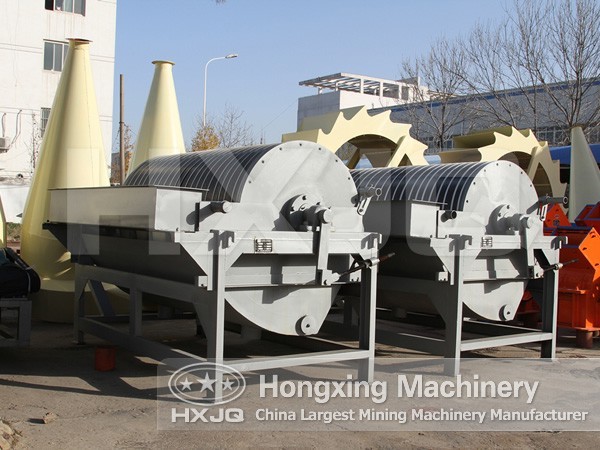 Technical data
Model
Shell diameter
(mm)
Shell lenght
(mm)
Shell rotation
speed(r/min)
Feeding size
(mm)
Processing capacoty
(t/h)
Power(kw)
CTB6012
600
1200
<35
2-0
10-20
1.5
CTB6018
600
1800
<35
2-0
15-30
2.2
CTB7518
750
1800
<35
2-0
20-45
2.2
CTB9018
900
1800
<35
3-0
40-60
3
CTB9021
900
2100
<35
3-0
45-60
3
CTB9024
900
2400
<28
3-0
45-70
4
CTB1018
1050
1800
<20
3-0
50-75
5.5
CTB1021
1050
2100
<20
3-0
50-100
5.5
CTB1024
1050
2400
<20
3-0
60-120
5.5
CTB1218
1200
1800
<18
3-0
80-140
5.5
CTB1224
1200
2400
<18
3-0
85-180
7.5
CTB1230
1200
3000
<18
3-0
100-180
7.5
CTB1530
1500
3000
<14
3-0
170-280
11
Related Products
Classic Case
Pakistan Magnetic Separation Process

Production capacity: 150 t/d
Processing material: iron ore, hematite, limonite, manganese ore, ilmenite
Benefits: complete technique support, all-round services

Read more
Flotation Separation Process

Production capacity: 300 t/d
Processing material: iron ore, copper, zinc, lead, nickel, gold
Benefits: superb technique support, all-round services

Read more