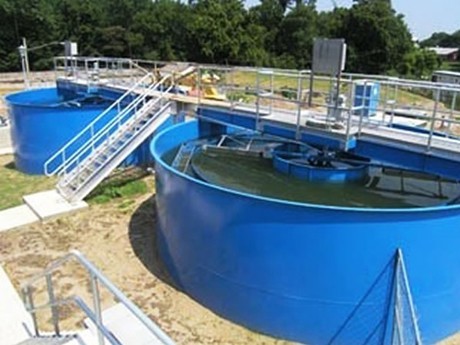 High Efficiency Concentrator
Processing capacity: 5.6–6250 t/d
Total weight: 1.8–204.6 t
Material handling: slime, waste water, waste slag, etc
Benefits: complete technique support, all-round services
Overview
The high efficiency concentrator produced by our company is suitable for removing the water in the ore concentrate and the tailings in the ore beneficiation plant and it can concentrate the ore pulp from 20-30 % to about 40-70 %. This high efficiency concentrator is widely used in metallurgy, chemistry, coal, non-metal ore beneficiation and environmental protection industry.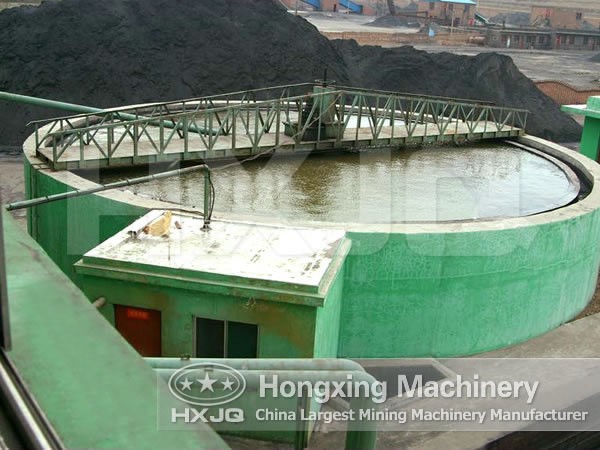 Advantages
(1) Add flocculating agent to increase the grain size of the falling solid particles to accelerate the falling process.
(2) Install an inclined board to shorten the falling distance of the ore particles and increase the falling area.
(3) Perform the functions of flocculating, filtering, concentrating and improving the processing quantity.
(4) High efficiency concentrator is equipped with comprehensive automatic control device.
Technical data
Specification
Concentration pond (m)
Deposit square(m2)
Harrow part
Motor
Processing capacity (t/d)
Total weight(t)
Model
Specification
Inner diameter
Depth
Pond degree
Method
Height(m)
Rotation time(min/r)
Driving
Lifting
NZS-1
Φ1.8m
1.8
1.8
2.54
Manual
0.16
2
Y90L-6 1.1KW
----
5.6
1.9
NZS-3
Φ3.6m
3.6
1.8
10.2
Manual
0.35
2.5
Y90L-6 1.1KW
----
22.4
4.3
NZS-6
Φ6m
6
3
28.3
Manual
0.2
3.7
Y90S-4 1.1KW
----
62
10.7
NZSF-6
Φ6m
6
3
28.3
Manual
----
3.7
Y90S-4 1.1KW
----
62
5.1
NZ-9
Φ9m
9
3
63.6
Auto
0.25
4.34
Y132S-6 3KW
XWD0.8-3 0.8KW
140
8.5
NZS-9
Φ9m
9
3
63.6
Manual
0.25
4.34
Y132S-6 3KW
----
140
7.5
NZS-12
Φ12m
12
3.5
113
Manual
0.25
5.28
JTC752A-44 5.2KW
----
250
11.1
NZ-15
Φ15m
15
4.4
176
Auto
0.4
10.4
JTC752A-44 5.2KW
Y112M-6 2.2KW
350
26.0
NZ-20
Φ20m
20
4.4
314
Auto
0.4
10.4
Y100L1-4 5.2KW
Y112M-6 2.2KW
960
28.9
NZ-30
Φ30m
30
7.165
707
----
0.61
13.7
JTC672A-44 5.2KW
YCJ132-S 1.5KW
----
36.6
NZS-45
Φ45m
45
4.633
1590
Manual
----
20
JTC672A-44 5.2KW
YCJ160-S 2.2KW
515
54.4
NT-15
Φ15m
15
3.5
177
----
----
8.4
Y132M2-6 5.5KW
----
390
12.6
NQ-18
Φ18m
18
3.5
255
----
----
10
Y132M2-6 5.5KW
----
560
11.6
NQ-24
Φ24m
24
3.4
452
----
----
12.7
Y160M-6 7.5KW
----
1000
26.6
NG-30
Φ30m
30
3.6
707
----
16
Y160M-6 7.5KW
----
1570
30.9
NJ-38
Φ38m
38
4.9
1134
----
----
10-25
JZT252-4 11KW
Y160M-6 7.5KW
1600
63.3
NT-45
Φ45m
45
5.05
1590
Auto
----
19.3
Y160L-6 11KW
----
2400
66.8
NTJ-53
Φ53m
53
5.07
2202
----
----
23.18
Y180L-6
15kw
----
6250
89.1
NT-100
Φ100m
100
5.65
7846
----
----
43
Y180L-6 15KW
----
3030
214.9
Related Products
Classic Case
Pakistan Magnetic Separation Process

Production capacity: 150 t/d
Processing material: iron ore, hematite, limonite, manganese ore, ilmenite
Benefits: complete technique support, all-round services

Read more
Flotation Separation Process

Production capacity: 300 t/d
Processing material: iron ore, copper, zinc, lead, nickel, gold
Benefits: superb technique support, all-round services

Read more