Overview
This flotation cell is suitable for separating non-ferrous and ferrous metals as well as non metals such as fluorite and talc. This machine runs by the triangle belt of the electrical motor driving the impellor to rotate, producing centrifugal effect which will form negative pressure, and on one hand it will absorb sufficient air in order to mix with the pulp, and on the other hand it will mix the pulp in order to mix with the reagents, and at the same time will refine the foam in order to stick the minerals onto the foam, and float on the surface of the pulp in order to become mineralization foam.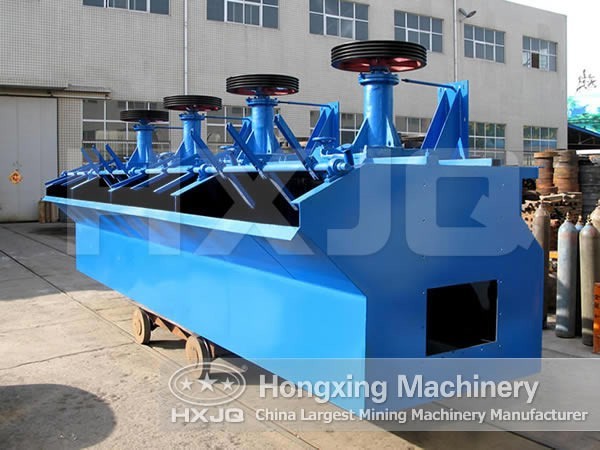 Advantages
Before starting the machine, first check the bolts of all spare parts and before stopping the machine, manually spin the wheel to prevent the depositing of sediment from increasing the load of electro motor.
The quick-wear parts: impeller and stator.
Our company is specialized in producing full set of ore beneficiation equipment that can process 3-1000 tons of materials per day, and we cooperate with mining research institute, so that we can provide you with scientific and reliable ore dressing technology and production flow such as gold ore beneficiation flow and iron concentrate powder separation flow and the price of ball mill, flotation machine and magnetic separator is reasonable and the most competitive.
Performance Characteristics
The structure of flotation machine: this machine is mainly composed of pulp chute, mixing device, air charging system, mineralized bubble discharging device and electro motor.
(1) Pulp chute: It has pulp feeding mouth and the gate device used for adjusting the liquid level and it is mainly composed of mainly composed by the chute body which is melt by the steel board and gate melt by the steel board and steel rod.
(2) Mixing device: It is mainly used for mixing the pulp in order to prevent the mineral sand to deposit on the chute, and it is mainly composed by the belt wheel, impeller, vertical shaft and the impeller is made of the anti-abrasion rubber.
(3) Air charging system: It is mainly composed by the inlet air pipe. When the impeller rotates, there will produce negative pressure inside the impeller chamber in order to absorb air through the hollow pump line and disperse the pulp in order to form a bubble group.
(4) Mineralized foam discharging device: This device is mainly used for scarping the foam floating on the cell and it is mainly composed by the reducer driven by the electric motor and scrapper driven by the reducer.