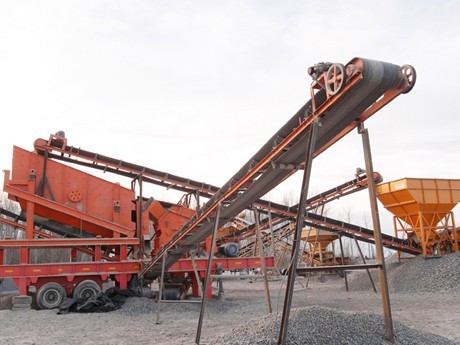 Belt Conveyor
Capacity: 78–2195 t/h
Belt width: 500–1600 mm
Length: 0–40 m
Conveying speed: 1.3–2.0 m/s
Material handling: coal, gravel, sand, cement, chemical fertilizer, food, etc
Overview
The commonly used conveying equipment is belt conveyor, and the belt conveyer manufactured by Hongxing Machinery has the advantages of big conveying amount, simple structure, convenient maintenance and standard spare parts. It has been widely used in many industrial departments such as mine, metallurgy and coal for transporting bulk materials and piece articles. According to the conveying requirement, one belt conveyor can convey materials independently or several belt conveyors form or with other conveying machines form a horizontal or tilted conveying system.
Advantages
1. This series of conveying equipment can be used in the temperature ranges of -20℃~+40℃ and the temperature of the materials to be conveyed should be below 50℃.
2. The belt conveyor produced by our company can economically and effectively convey all kinds of materials.
3. The belt conveyor moves according to the friction drive principle and its conveying amount is big, conveying distance is long and conveyance is stable, and there is no relative movement between the materials and the belt.
Technical data
Belt width(mm)
Conveying length(m)
Power(kw)
Conveying speed(m/s)
Conveying amount(t/h)
400
≤10
3
12-15
3-4
15-30
4-7.5
1.25-2.0
30-60
500
≤10
3
12-15
4-5.5
15-30
5.5-7.5
1.25-2.0
40-80
650
≤10
4
12-15
7.5
15-30
7.5-11
1.25-2.0
80-120
800
≤10
4
12-15
7.5
15-30
7.5-15
1.25-2.0
120-200
1000
≤10
5.5
10-20
7.5-11
20-40
11-22
1.25-2.0
200-320
1200
≤10
7.5
10-20
7.5-15
20-40
15-30
1.25-2.0
290-480
1400
≤10
11
10-20
15-22
<20-40
22-45
1.25-2.0
400-680
1600
≤10
15
10-20
22-30
<20-50
30-75
1.25-2.0
600-1080
1800
≤10
18.5
10-20
30-45
<20-50
45-110
1.0-2.0
200-1500
2000
≤10
22
10-20
45-55
<20-40
55-132
1.0-2.0
1000-2000
2400
≤10
30
10-20
55-75
<20-40
75-185
1.0-2.0
1500-3000
Related Products
Classic Case
Pakistan Sand Production Line

Production capacity: 200 t/h
Processing material: river pebbles, quartz
Benefits: top notch technique support, all-round services

Read more
South Africa Stone Crushing Plant

Production capacity: 250 t/h
Processing material: marble
Benefits: complete technique support, all-round services

Read more