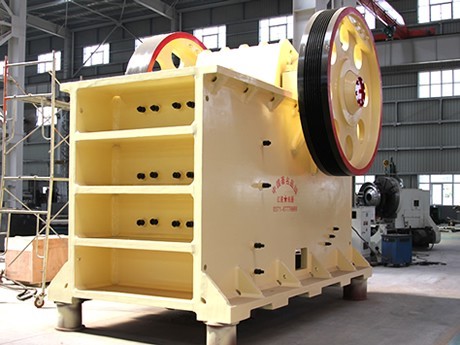 Jaw Crusher
Production capacity: 1–1200 t/h
Feeding size: 125–1200 mm
Inlet size: 150×250–1600×2100 mm
Outlet size: 10–400 mm
Total weight: 0.8–150.6 t
Motor power: 5.5–380 kw
Material handling: pebble, calcite, granite, quartz, concrete, dolomite, bluestone, iron ore, limestone, construction waste, etc
Advantages
Jaw crusher is a crushing machine that is researched and developed very early. With simple and solid structure, reliable work, easy maintenance and repair and low production and construction fees, it has long been widely used for the coarse, medium and fine crushing of various kinds of ores and rocks whose compression strength is 147~245MPa in many industrial departments such as metallurgy, chemistry, building material, power plant and transportation.
| | | |
| --- | --- | --- |
| Large Jaw Crusher | Midsize Jaw Crusher | Mini Jaw Crusher |
In recent years, to satisfy the requirement of crushing micro-carbon ferro chrome with high strength and high hardness in the industrial departments of metallurgy, mine and building, our company has specially researched and manufactured powerful jaw crusher.
Overview
Jaw crusher is mainly used for the medium-granularity crushing of all kinds of ores and large materials in mine, metallurgy, building material, highway, railway, water conservancy and chemistry. The maximum compression strength of the materials to be crushed is 320 M Pa.
Technical data
Model

Feed opening
(mm)

Max.feeding size
(mm)

Adjusting range of discharge opening
(mm)

Processing capacity
(t/h)

Rotation speed of eccentric shaft
(r/min)

Motor power
(kw)

Total weight
(t)

Dimensions
(L×W×H)
(mm)

PE-150×250
150×250
125
10-40
1-3
250
4P 5.5
0.8
720×660×850
PE-200×300
200×300
180
15-50
2-6
260
4P 7.5
1.2
910×750×990
PE-200×350
200×350
180
18-70
3-10
260
4P 11
1.5
1000×870×990
PE-250×400
250×400
210
20-60
5-20
300
6P 15
2.8
1300×1090×1270
PE-400×600
400×600
340
40-100
16-60
275
6P 30
7
1730×1730×1630
PE-500×750
500×750
425
50-100
40-110
275
6P 55
12
1980×2080×1870
PE-600×750
600×750
500
150-200
80-240
275
6P 55
15.8
2070×2000×1920
PE-600×900
600×900
500
65-160
50-160
250
6P 55
17
2190×2206×2300
PE-750×1060
750×1060
630
80-140
110-320
250
8P 110
29
2660×2430×2800
PE-800×1060
800×1060
640
130-190
130-330
250
8P 110
29.8
2710×2430×2800
PE-830×1060
830×1060
650
160-220
150-336
250
8P 110
30.7
2740×2430×2800
PE-870×1060
870×1060
660
200-260
190-336
250
8P 110
31.5
2810×2430×2800
PE-900×1060
900×1060
685
230-290
230-390
250
8P 110
33
2870×2420×2940
PE-900×1200
900×1200
750
95-165
220-450
200
8P 110
52
3380×2870×3330
PE-1000×1200
1000×1200
850
195-265
315-500
200
8P 110
55
3480×2876×3330
PE-1200×1500
1200×1500
1020
150-350
400-800
180
6P 160-220
100.9
4200×3300×3500
PE-1500×1800
1500×1800
1200
220-350
500-1000
180
8P 280-355
139
5160×3660×4248
PE-1600×2100
1600×2100
1500
300-400
1300-2200
160
8P 350-380
150.6
6210×4013×4716
PEX-150×750
150×750
120
18-48
8-25
320
4P 15
3.8
1200×1530×1060
PEX-250×750
250×750
210
25-60
13-35
330
6P 22
5.5
1380×1750×1540
PEX-250×1000
250×1000
210
25-60
16-52
330
6P 30
7
1560×1950×1390
PEX-250×1200
250×1200
210
25-60
20-61
330
6P 37
9.7
2140×1660×1500
PEX-300×1300
300×1300
250
20-90
16-105
300
6P 55
15.6
2720×1950×1600
Related Products
Classic Case
Pakistan Sand Production Line

Production capacity: 200 t/h
Processing material: river pebbles, quartz
Benefits: top notch technique support, all-round services

Read more
South Africa Stone Crushing Plant

Production capacity: 250 t/h
Processing material: marble
Benefits: complete technique support, all-round services

Read more