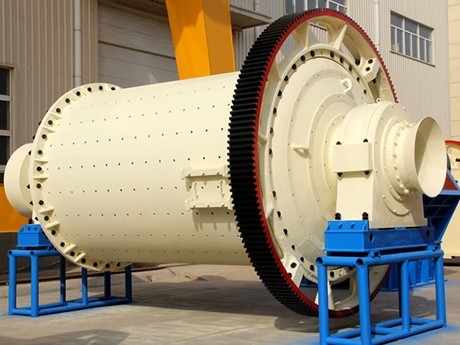 Ball Mill
Production capacity: 0.5–500 t/h
Feeding size: ≤25 mm
Motor power: 18.5–4500 kw
Total weight: 5.5–525 t
Material handling: cement, silicate, new-type building material, refractory material, fertilizer, ore dressing of ferrous metal and non-ferrous metal, glass ceramics, etc.
Overview
Ball mill is the key equipment for recrushing the materials after they are primarily crushed. Ball mill is widely used for the dry type or wet type grinding of all kinds of ores and other grindable materials in cement, silicate product, new building material, refractory, fertilizer, black and non-ferrous metals and glass ceramic industry.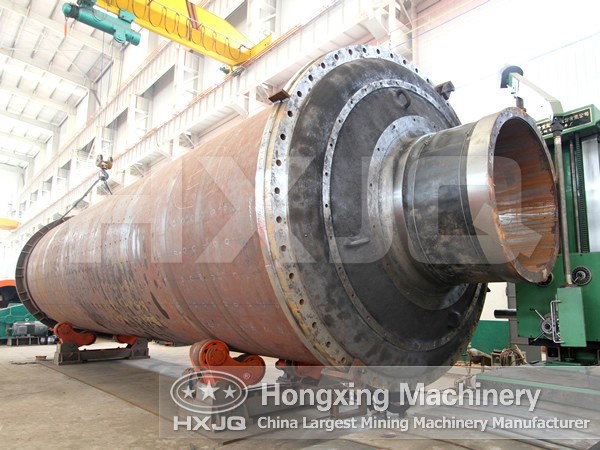 The Inner Structure of Ball Mill:
Ball mill is made of a horizontal cylinder, a feeding and discharging hollow shaft, grinding head and other parts. The cylinder is a cylindrical tube. There is a grinding body in the tube. The cylinder is made of steel and fixed by a steel liner and cylinder. Grinding body is generally steel balls. These steel balls are installed in the tube according to different diameters and a certain proportion. The grinding body can also be steel sections.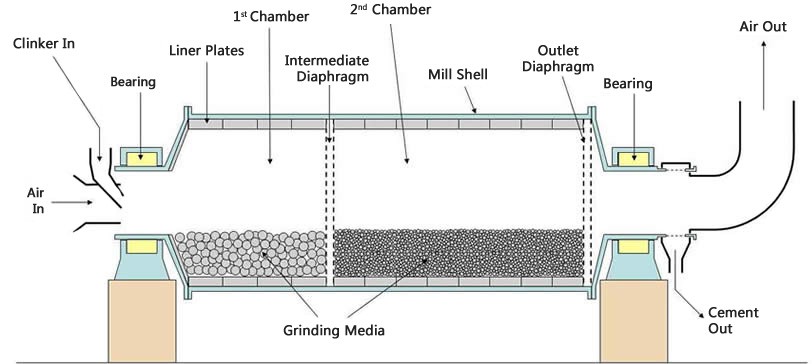 Advantages
This machine is a horizontal type cylinder rotary device and outside the cylinder there is drive gear which drives the cylinder to rotate during the working process. Materials spirally and evenly go into the first cabin of the grinding machine through the feeding hollow shaft from the feeding device, and inside the first cabin, there are ladder lining boards or ripple lining board in which there are many steel balls with different specifications.
Technical data
Model
Shell rotation speed
(r/min)
Ball load
(t)
Feeding size
(mm)
Discharging size
(mm)
Capacity
(t/h)
Motor power
(kw)
Total weight
(t)
Ф900×1800
36-38
1.5
≤20
0.075-0.89
0.65-2
18.5
5.85
Ф900×3000
36
2.7
≤20
0.075-0.89
1.1-3.5
22
6.98
Ф1200×2400
36
3
≤25
0.075-0.6
1.5-4.8
30
13.6
Ф1200×3000
36
3.5
≤25
0.074-0.4
1.6-5
37
14.3
Ф1200×4500
32.4
5
≤25
0.074-0.4
1.6-5.8
55
15.6
Ф1500×3000
29.7
7.5
≤25
0.074-0.4
2-5
75
19.5
Ф1500×4500
27
11
≤25
0.074-0.4
3-6
110
22
Ф1500×5700
28
12
≤25
0.074-0.4
3.5-6
130
25.8
Ф1830×3000
25.4
11
≤25
0.074-0.4
4-10
130
34.5
Ф1830×4500
25.4
15
≤25
0.074-0.4
4.5-12
155
38
Ф1830×6400
24.1
21
≤25
0.074-0.4
6.5-15
210
43
Ф1830×7000
24.1
23
≤25
0.074-0.4
7.5-17
245
43.8
Ф2100×3000
23.7
15
≤25
0.074-0.4
6.5-36
155
45
Ф2100×4500
23.7
24
≤25
0.074-0.4
8-43
245
56
Ф2100×7000
23.7
26
≤25
0.074-0.4
12-48
280
59.5
Ф2200×4500
21.5
27
≤25
0.074-0.4
9-45
280
54.5
Ф2200×6500
21.7
35
≤25
0.074-0.4
14-26
380
61
Ф2200×7000
21.7
35
≤25
0.074-0.4
15-28
380
62.5
Ф2200×7500
21.7
35
≤25
0.074-0.4
15-30
380
64.8
Ф2400×3000
21
23
≤25
0.074-0.4
7-50
245
58
Ф2400×4500
21
30
≤25
0.074-0.4
8.5-60
320
72
Ф2700×4000
20.7
40
≤25
0.074-0.4
22-80
380
95
Ф2700×4500
20.7
48
≤25
0.074-0.4
26-90
480
102
Ф3200×4500
18
65
≤25
0.074-0.4
As per process conditions
630
149
Ф3600×4500
17
90
≤25
0.074-0.4
As per process conditions
850
169
Ф3600×6000
17
110
≤25
0.074-0.4
As per process conditions
1250
198
Ф3600×8500
18
131
≤25
0.074-0.4
45.8-256
1800
260
Ф4000×5000
16.9
121
≤25
0.074-0.4
45-208
1500
230
Ф4000×6000
16.9
146
≤25
0.074-0.4
65-248
1600
242
Ф4000×6700
16.9
149
≤25
0.074-0.4
75-252
1800
249
Ф4500×6400
15.6
172
≤25
0.074-0.4
84-306
2000
280
Ф5030×6400
14.4
216
≤25
0.074-0.4
98-386
2500
320
Ф5030×8300
14.4
266
≤25
0.074-0.4
118-500
3300
403
Ф5500×8500
13.8
338
≤25
0.074-0.4
148-615
4500
525
Related Products
Classic Case
Pakistan Magnetic Separation Process

Production capacity: 150 t/d
Processing material: iron ore, hematite, limonite, manganese ore, ilmenite
Benefits: complete technique support, all-round services

Read more
Flotation Separation Process

Production capacity: 300 t/d
Processing material: iron ore, copper, zinc, lead, nickel, gold
Benefits: superb technique support, all-round services

Read more